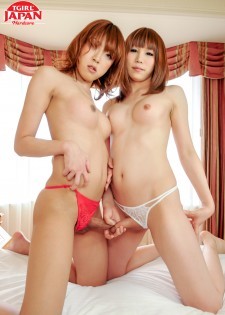 Hot trangirl Ran Mizumoto is having a lot of fun with her girl friend Koyuki Takahashi in this set. Watch the two blow each other before fucking. They both have great bodies and rock hard tgirl cocks.
16th Jun 2022
25:19 HD Video
& 176 Photos
NO STRANGER to having her delicious ass penetrated in front of a lens having already smashed two exclusives girl/boy scenes here on TGJHC, Tokyo hottie Koyuki Takahashi is back with a bang and she's getting the week underway in sensational fashion with this popping XXX shot by Terry. After some pro mutual fellatio our lustful duo get downright dirty with some serious anal fun as submissive Koyuki is thrown around like the naughty little fuck toy we've come to know and love. Another nut busting production from your good friends at Grooby Japan!
25th Jun 2020
27:47 HD Video
& 152 Photos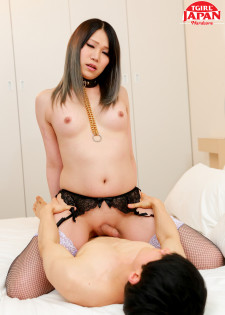 BLINDFOLDED & BOUND - The sensational Koyuki Takahashi returns to smash another TGJHC exclusive in this dark and moody hardcore scene that is guaranteed to get your mouth watering! Falling to her knees she opens her mouth wide and gags on her guys dick like its going out of fashion, before taking to the sheets for some vibe and ass punishment! It's a ball busting fetish scene from a very naughty newhalf - do not miss this one!
12th Mar 2020
29:53 HD Video
& 166 Photos
SEX KITTEN Koyuki Takahashi returned to TGirl Japan recently having been unseen for years - her resurgence continues in scintillating form today as we present her second hardcore scene and man - what a show! Kicking off with some expert mutual fellatio, our naughty newhalf is soon spread wide as she begs for her hungry and inviting ass to be stuffed with throbbing hot cock. Her fella duly delivers the goods, ramming her deep before busting a load of the good stuff into Koyuki's slutty waiting mouth...what a good girl!
20th Feb 2020
28:16 HD Video
& 149 Photos